Mario Yagobi: Joey will fight for Snookie
Joey will soon fight for Dr. Yagobi and Snookie
On January 13th Joey Dawejko (6-0, 2KO) beat Corey Winfield (4-9, 2KO) and won his first ever fight for his new employer. The owner of Boxing360 Dr. Mario Yagobi was pleased with his performance, but decided that one fight in a month is simply not enough for "Polish Thunder". Here is what Joey's boss had to say about his last fight and future plans, which involve... a star of an MTV show "Jersey Shore".
How would you rate Joey's performance against Winfield?
M.Y.:
We signed him only a couple of days earlier, so I asked him if he's ready to fight and he said yes. He was off for a couple of months, but he was not at all intimidated in that fight against a big, 305-310lb and 6'5" guy. Joey is obviously much shorter, but won the fight and showed some really nice skills.
Was he ever in trouble? Was there a chance for a knock-down?
Joey listens to Dr. Yagobi's advice
M.Y.:
Against those heavyweights he moves like a middleweight guy, so
he was never in trouble. And the chance for a KO was nullified by Winfield, who unfortunately did more holding than punching throughout all 4 rounds. Referee had his hands full with separating the fighters, but at the end all three judges had it 40-36 in favor of Joey.
His next fight will be in Chicago on February 17th. Who will be his opponent this time?
M.Y.:

We have a couple of guys lined up, but nothing has been signed so far. But actually before that takes place Joey has one more bout in January. This Saturday at Resorts Casino Hotel in Atlantic City he will take on Alvaro Morales - a 6'0" and 295lb Mexican from Las Vegas*. He's a more experienced fighter (6-10-6) and has a great resume. He's gone the distance with
Seth Mitchell, Jonte Willis, Ashante Jordan or Andy Ruiz Jr. He also fought and lost to a Polish-Canadian fighter Grzegorz Kielsa.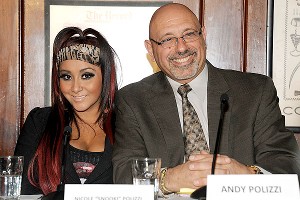 Snookie the Promoter with her dad Andy Polizzi
foto: Jamie McCarthy/Wire Image
So three fights in a span of a little over a month. What's the hurry?
M.Y.:
Joey has a great amateur background and he wants to bring those skills to the ring as often as possible. On Saturday he's going to do just that even though we agreed to be on the card only 5 days before the fight.
We got a call from Brian Burke of Final Round Promotions in upstate NY, who were scrambling to get an opponent for Morales. They work with Jersey Shore's
Nicole "Snookie" Polizzi, who - along with her dad Andy Polizzi - recently became an owner of Team Snookie Boxing. We could not say no to her.
Is Joey ready to take on another big guy on such a short notice?
M.Y.:

When we signed him I told him that I plan on moving him very quickly and he said that it's fine with him. That's what he's been training for. Hopefully we won't get cut or injured, because I would like to get him in the ring once a month so he could show off his skills and show what he's made of.
After the signing you have said that ultimately you would like him to go one division down. When will we see Joey as a cruiserweight?
M.Y.:

Right now it's much easier to move people in the heavyweight category, so he will continue to fight in this division. Hopefully within the next 10 fights he will be ready.
Tomek Moczerniuk
Photos: Boxing360.com (Rich Hundley)
_______________________________________________________